Spring in the horse community usually means shedding coats, horse show prep, new foals, and spring vaccines. There are so many types, brands, and forms of horse shots it's easy to get overwhelmed and confused, especially with terms like "5-way". Dr. Jess will debunk what a horse 5-way vaccine is below: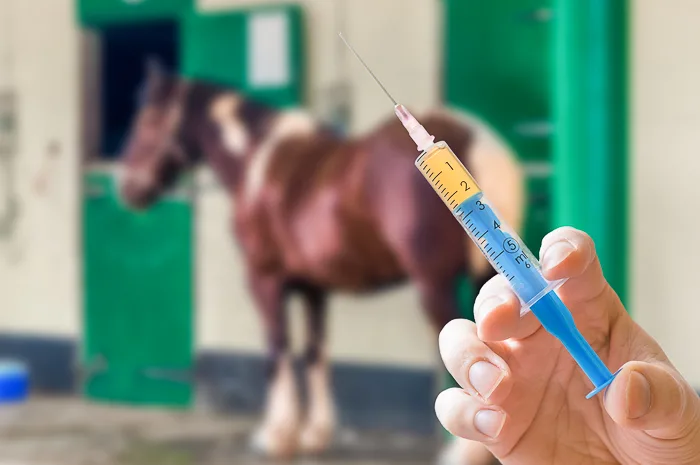 Let's Go Over What Horses Are:
Horses are equids.
An equine is just another term for a horse or pony.
There are wild horses and domesticated horses that are seen commonly being ridden.
Horses are herbivores, weigh an average of 1,000 pounds, and have an average life span between 25-30 years.
They are herd animals, typically wanting to be in the presence of others.
They can make great companions, pets, and riding partners.
Even though horses can be very well-trained, they can get themselves into trouble very easily and quickly.
What is a Vaccine?
According to the CDC, vaccines are described as:
"Vaccines prevent diseases that can be
dangerous, or even deadly. Vaccines greatly
reduce the risk of infection by working with
the body's natural defenses to safely develop
immunity to disease."

https://www.cdc.gov/vaccines/hcp/conversations/downloads/vacsafe-understand-color-office.pdf
There is a multitude of different forms a vaccine can be created with.
Common Vaccine Types:
Live Attenuated Vaccines: This type of vaccine contains a version of the living virus or bacteria but it has been weakened so that it won't cause severe harm or disease to the animal. Because it is the closest thing to the actual virus, it is really good at teaching the horse's immune system to defend against the virus. This is also the reason why it may not be advisable to give these types of vaccines to certain horses with lowered immune function.
Inactivated "killed" Vaccines: This type of vaccine inactivates or "kills" the pathogen during the creation of the vaccine.
Subunit Vaccines: These vaccines use only a subunit or pieces of the pathogen to elicit an immune response.
Conjugate Vaccines: These vaccines connect sugar-like substances to antigens to help produce an immune response not likely prodiced without this "connection" or "conjugation".
Toxoid Vaccines: This type of vaccine fights against bacteria pathogens. These bacteria produce toxins inside the body, however, when creating these vaccines, the toxins themselves are weakened so as to not cause disease or illness.
What Does "5-Way" mean?
A five way provides protection against five different viruses that can affect your horse.
It doesn't necessarily mean that every manufacturer of every 3-way, 4-way, or 5-way vaccine works to combat defenses against the same viruses.
In fact, there are many different versions of these multi-way vaccines so it is best to speak to your local vet who knows you and your horse before getting your horse vaccinated.
What is in the Horse 5 Way Vaccine?
The 5-way vaccines that I am talking about in this article (under the "Types" section of this post) are brands that protect against EEE (Eastern Equine Encephalitis), WEE (Western Equine Encephalitis), Tetanus (tetanus toxoid), Influenza ("flu"), and Equine Herpesvirus ("Rhinopneumonitis", or simply "Rhino")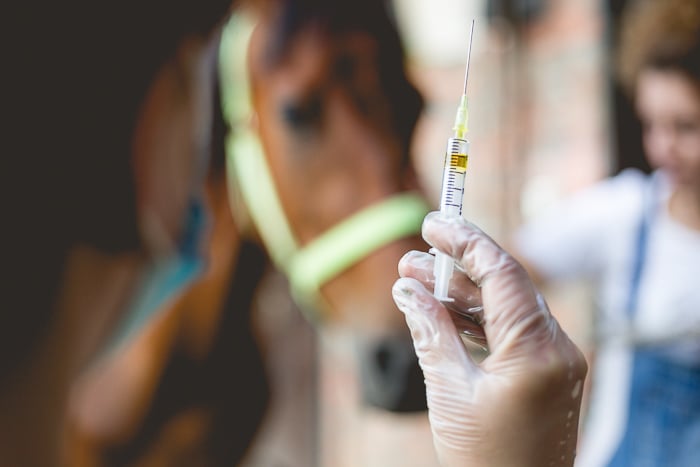 Why Do 5-Way Vaccines have "+WNV" on the Label?
The annotation of "+WNV" means that the company selling the shot has added the vaccine for West Nile Virus to the combination in the 5-way vaccine.
So this means that it is a 5-way + 1 vaccine, or in other words, one vaccine for 6 different viruses.
What Types of 5-Way Vaccines Are There?
There are many different types of 5-way vaccines that contain ingredients to elicit an immune response to many different viruses.
I am describing the three different 5-way vaccines that I am familiar with.
Fluvac Innovator 5:
A vaccine made by the brand Zoetis for: Protects against Eastern and Western Encephalomyelitis (sleeping sickness) and Tetanus. Aids in prevention of respiratory disease caused by herpes virus EHV-1 and EHV-4 and against Kentucky 97, the current A1 and A2 influenza strain.
A second dose is needed 2-4 weeks later as a booster. Then, an annual booster is recommended every year after that. Horses subjected to repeated exposure may benefit from re-vaccination every 3 months.
Fluvac Innovator 5 + WNV:
This vaccine has the Fluvac Innovator 5 vaccine product as well as the vaccine for West Nile Virus, West Nile Innovator, all wrapped into one single vaccine.
The West Nile Innovator protects against the viremia (viral sickness) which is caused by West Nile Virus.
Prestige 5 + WNV:
Prestige V + WNV with Havlogen Equine Vaccine is manufactured by Merck.
This vaccine is a combination of inactivated, concentrated, adjuvanted Eastern and Western Equine Encephalomyelitis Viruses, Equine Herpesviruses (Rhino EHV-1 and EHV-4), Equine Influenza Viruses, Tetanus Toxoid, and West Nile Virus.
Are 5-Way Vaccines Safe For My Horse?
There are some things to think about before allowing your horse to receive a 5-way vaccine over giving them individual vaccines.
Administering vaccines for individual diseases allows the horse's immune system time to react properly to each vaccine instead of being overwhelmed by stimulus of five as in a 5-way vaccine.
Research has been conducted which shows that a horse's immune system makes a higher antibody level after an individual vaccine rather than combination vaccines, and a higher antibody level against the virus or pathogen is what we want!
It also allows better tracking of what your horse has been vaccinated against.
That means no guessing like in a lot of 5-way vaccines of what viruses your horse has been vaccinated against.
It also allows better tracking of what your horse is allergic to if they show adverse reactions to a vaccine. If your horse reacts to a 5-way vaccination, there is no way of telling which part of the vaccine your horse reacted to.
Who Should Give Vaccines To My Horse?
My first response is always going to be "YOUR VET!!!"
Your vet knows the latest AAEP guidelines, they know how to correctly administer the vaccines, and in most states, they are the only ones who can legally give the rabies vaccine to your horse.
If you are in a circumstance where it is not possible for your veterinarian to see your horse for spring vaccinations, then I say do your best research and at the very least, talk to a vet over the phone before administering the vaccines.
Also check with the supply company that you're acquiring the vaccines from.
Did they package the vaccine appropriately? Did they chill the necessary vaccines properly? Things to ask before going any further.
Lastly, before administering vaccines, make sure that you know what signs to look out for in case your horse reacts adversely to the newly administered vaccines.
I will mention some of the most common vaccine reaction signs below…
What Other Vaccines Do Horses Get?
A horse's location, use, lifestyle, horsey neighbors and friends, and age all play a role in what vaccines are recommended.
So speak to your vet about which vaccines are right for your steed.
Will My Horse Need A Booster Shot?
Some horses will need a booster vaccine given to them weeks or months after the initial dose was given.
This really depends on horse horse's health and lifestyle, the vaccine you gave, and the time of year you gave it.
The common vaccines that are given to much of the horse population on a regular basis are vaccines against:
Rabies
Tetanus
Eastern Equine Encephalitis
Western Equine Encephalitis
West Nile Virus
Less Common Vaccines Based on Risk Include:
Equine Influenza
Equine Herpesvirus (Rhinopneumonitis, or "Rhino")
EVA (Equine Viral Arteritis)
Potomac Horse Fever
Rotaviral Diarrhea
Strangles
etc.
What Are Side Effects of the 5-Way Vaccine?
The American Association of Equine Practitioners puts the common side effects of vaccines as:
"After receiving a vaccine(s) intramuscularly, some horses experience local muscular swelling and soreness or transient, self-limiting signs including fever, anorexia and lethargy. Severe reactions at sites of injection can be particularly troublesome, requiring prolonged treatment and convalescence. Systemic adverse reactions (such as urticaria, purpura hemorrhagica colic or anaphylaxis) can also occur. Other systemic adverse reactions have been anecdotally reported."

https://aaep.org/guidelines/vaccination-guidelines/adverse-reactions
Commonly seen side effects right after vaccines have been given include injection site soreness and/or swelling, decreased appetite, or a decrease in energy level.
However, these adverse reactions should not last long – no longer than a day or two.
More severe reactions include things such as colic an even death if left untreated, so it is best to contact your vet if you notice your horse isn't themselves after vaccines.
What To Do If Your Horse Shows Signs of Adverse Reaction to the Vaccine:
The first thing that you should do if you notice your horse acting abnormally after vaccination administration is to contact your veterinarian immediately.
They can guide you on a course of action to help reduce symptoms that your horse may be experiencing.
This may entail a trip out from your veterinarian to administer medications to help with reaction symptoms.
Summary:
Vaccines are a common and routine part of maintaining your horse's best health.
Having your veterinarian administer vaccinations for your pet is always best.
The horse 5-way vaccine is one vaccine that combines the combat of 5 different viruses from the immune system.
After vaccine administration, look for signs of adverse reaction from your horse and notify your veterinarian if symptoms appear.